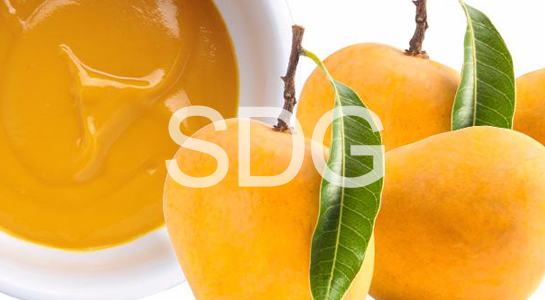 Alphonso Mangoes are harvested using innovative scientific methods and age old process is used to mature them. This natural way ensures the best sweetness, aroma and color in the Alphonso mangoes. We are the exporter of Alphonso mango fruit pulp from the Alphonso mangoes grown in fertile regions of South and East India.
The manufacturing process includes cutting, destoning, refining and processing of pulp. Alphonso pulp is then sterilized and packed in aseptic bags. The state-of-art equipments used in our processing unit ensures that the natural flavour and aroma of the mango fruit is retained. Alphonso mango pulp is accepted globally for its great colour, nutritional value and tempting taste.
Mango pulp can be completely incorporated into juices, nectars, drinks, jams, fruit cheese, cream, dessert, puddings, bakery fillings, fruit meals for children, flavours, ice creams, yoghurt and confectionery. Alphonso mango fruit pulp is a rich source of vitamin A, C and D., various minerals, antioxidant enzymes, potassium and fibre. This processed pulp helps in enhancing the body resistance to fight against various infections.
Hygienically processed Alphonso mango pulp has a homogenous & uniform free flowing appearance. Product name, batch/product code, net/gross weight, date of manufacture, storage instructions are printed on the label, affixed to each drum/box. The products are packed in an aseptic system with high quality and competitive price