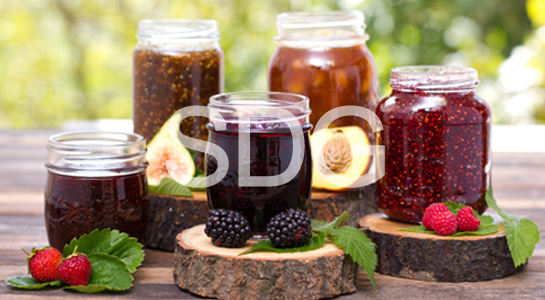 Fruit Jams we obtain fresh fruit pulps and use added flavors to create a luscious and delicious gamut of jam. These fruit jams are offered in diverse flavors like apple, orange, mango, pineapple, apricot and mixed fruit as well. These are packed in glass or PET jars and containers for convenience of the consumers.
Our mouth-watering collection of fruit jam is prepared from fresh garden fruits and is available in splendid flavors. This collection is safe to be consumed and the delectable taste appeals to one and all. The packaging can be customized as per the client specification.
We offer wide of range of fruit jams which includes Mix Fruit Jam, Pineapple Jam, Apricot Jam, Mango Jam and many more Paste Our gamut of paste is high in demand. Owing to its fine quality and premium taste, it is widely appreciated by our clients. Our paste has pungent flavor and is known for its medicinal value. Available at the highly competitive prices, paste is packed by using quality packaging material, to ensure safe & hassle free delivery of consignment at the desired destination.
Apricot Jam
We have a huge collection of Apricot Jam that are processed using freshly picked fruits from the gardens. Our clients can avail these at market leading prices.
Mixed Fruit Jam
Mixed Fruit Jam is made from fresh fruits from garden. They are rich in vitamins and used while having morning breakfast. These are delicious in taste and offered in various packages. We manufacture and supply mixed fruit jams to our clients at competitive range. Both kids and adults love to eat jam.
Mango Jam
Mango Jam is delicious in taste and can be used to eat with bread. These are full of nutrition and easily available anywhere. These should be kept in cool area and preserved for longer time. We manufacture and export mango jams to our clients at exclusive range. These are available in different sizes and flavors. Children love to eat mango jam for their rich sweetness.
Pineapple Jam
Pineapple is a tropical fruit and that is full of vitamins. We use high quality ingredients to make jam and widely used by the clients. These are used while having bread, rolls etc. We manufacture and export pineapple jam to our clients at comprehensive range. It is delicious in taste and available in different sizes and flavors.
Orange Jam
Made from juicy and luscious oranges, our Orange Jams a delicious accompaniment to breads and toasts. We follow the age old recipes and traditional methods of processing orange jams. The processing of these jams is done in hygienic conditions, using the best oranges. Clients can avail our orange jams in sealed glass jars of different capacities.
Marmalade Jam
These products are highly rich in sugar along with the fruit content, generally liked by children and teenagers, consumed as supplement with bread and other similar products. It is a kind of perennial product which is mainly consumed in urban and suburban areas.